The Effect Of Aloe Vera Decoction On Blood Cholesterol Levels Of Obese Respondents Level I
Kustiasih Lestari

Poltekkes Kemenkes Riau
Keywords:
Hypercholesterolemia, Cholesterol, Obesity, Aloe Vera
Abstract
Changes in social trend make many women pursue the career, thus storing
breastmilk cannot be avoided if Hypercholesterolemia is a condition in which
increased cholesterol levels that exceed normal limits, which have a risk of
death of coronary heart disease. Aloe vera is a medicinal plant in Indonesia
that is often used by the community as tradisional medicine. Compounds
contained in Aloe vera namely phytochemicals that contain phenolics
compounds. This study aims to determine the effect of aloe vera boiled water
with pre and postest research methods. T-tes statiscal results obtained an
average value of cholesterol level before treatment of 206,34 mg/dL and an
average after treatment 182,43 mg/dL, meaning that there are differences
in the results of cholesterol levels before and after consuming Aloe vera
boiled water. Then it can be concluded that there is a siginicant effect on the
provision of Aloe vera boiled water on the reduction of cholesterol levels in
obese respondents level with the p value <0,05.
References
Adiwiyoto, A. Kolesterol Yang Perlu Anda Ketahui. Jakarta: Kesaint Blanc. 2004.
Aurora, R.G., Sinambela, A., dan Noviyanti, C.H. 2012. Peran Konseling Berkelanjutan pada Penanganan Pasien
Hiperkolesterolemia. J. Indo Med Assoc, Volum: 62, Nomor: 5, Mei 2012.
Bangun. Terapi Jus Dan Ramuan Tradisional untuk Kolesterol. Jakarta: AgroMedia. 2008.
Baron, D.N. Kapita Selekta Patologi Klinik Edisi 4. Jakarta: ECG. 2002.
Fikri, F. Bahaya Kolesterol Memahami, Mendeteksi dan Mengontrol Kolesterol. Yogyakarta: Kata Hati. 2014.
Freitag, H. Bebas Obesitas Tanpa Diet Menyiksa. Yogyakarta: MedPress. 2010.
Furnawanthi, I. Khasiat dan Manfaat Lidah Buaya Si Tanaman Ajaib. Jakarta: AgroMedia Pustaka. 2002.
Gandasoebrata, R. Penuntun Laboratorium Klinik. Jakarta: Dian Rakyat. 2010.
Ginanjar, G. Obesitas Pada Anak. Jakarta: Pustaka Makmur. 2009.
Handayani, S. Lidah Buaya & Kegunaannya. Jakarta: IndoBook Citra Media. 2008.
Hanani, E. Analisis Fitokimia. Jakarta: Penerbit Buku Kedokteran. EGC. 2015.
Harrison. Prinsip-Prinsip Ilmu Penyakit Dalam. Jakarta: Penerbit Buku Kedokteran. ECG. 2000.
H. R., Hasdianah. Mengenal Diabetes Mellitus Pada Orang Dewasa dan Anakanak Dengan Solusi Herbal. Yogyakarta: Nuha Medika. 2012.
Iman, S. Serangan Jantung dan Stroke Hubungannya dengan Lemak & Kolesterol. Jakarta: PT Gramedia Pustaka Utama. 2004.
Kee, Joyce LeFever. Pedoman Pemeriksaan Laboratorium & Diagnostik. Jakarta: Penerbit Buku Kedokteran. EGC. 2007.
Kardinan,. A dan Ruhnayat,. A. Budi Daya Tanaman Obat Secara Organik. PT. Jakarta: AgroMedia Pustaka. 2003.
Mulyanto, D. Panjang Umur Dengan Kontrol Kolesterol & Asam Urat. Jakarta: Cahaya Atma. 2012.
Nelson, RH. Hyperlipidemia as a Risk Factor for Cardiovascular Disease. Prim Care. Author manuscript. 40(1). pp.195–211. 2013.
Nilawati, S. Care Your Self Kolestrol,. Yogyakarta: Penerbit C.V Andi Offset. 2008.
Notoatmodjo, S. Metodologi Penelitian Kesehatan. Jakarta: Rineka Cipta. 2012.
Proverawati, A. Obesitas dan Gangguan Perilaku Makan Pada Remaja. Yogyakarta: NuhaMedika. 2010.
Purwadaksi, R. Memanfaatkan Perkarangan Untuk Tanaman Obat Keluarga. Jakarta: Redaksi Agromedia. Hal: 23-26. 2007.
Rajasekaran, S. Beneficial Effects of Aloe vera Leaf Ge Extract on Lipid Profile Status in Rats with Streptozotocin Diabetis. Clinical and Experimental Pharmacology and Physiology, Tamil nadu, India. 2006.
Riset Kesehatan Dasar (Riskesdas). Pokok-Pokok Hasil Riset Kesehatan Dasar Provinsi Riau. Jakarta: Badan Penelitian dan Pengembangan Kesehatan Kementerian Kesehatan RI. 2013.
Santoso, B. Tumbuhan Obat. Penebar Swadaya, Jakarta: Hal: 71-76. 2008.
Setiati, E. Bahaya Kolesterol, Mengenal, Mencegah dan Menanggulangi Kolesterol. Yogyakarta: Dokter Books, hal: 31-32, 36. 2009.
Sharrif, M. M., & Verma, S. K. Aloe Vera their chemical composition and applications: A review. Int J Biol Med Res, 2 (1), 466-471. 2011.
Sianipar, Y., & Isnawati, M. Pengaruh Pemberian Jus Lidah Buaya Terhadap Kadar Kolesterol LDL dan HDL. Semarang: Program Studi Ilmu Gizi Fakultas Kedokteran Universitas Diponegoro. 2012.
Sukeksi, A., dan Anggraini H. Kadar Kolesterol Darah Pada Penderita Obesitas Di Kelurahan Korpri Sambiroto Semarang. Jurnal Kesehatan Unimus.
Vol. 2 No. 2. 2009.
Utami, P. Buku Pintar Tanaman Obat. Jakarta: PT. AgroMedia Pustaka. 2008.
Wahjono, E. Mengebunkan Lidah Buaya Secara Intensif. Jakarta: PT. AgroMedia Pustaka. 2002.
Wijayanti, D. Analisa Faktor Penyebab Obesitas dan Cara Mengatasi Obesitas Pada Remaja Putri. Skripsi tidak diterbitkan. Fakultas Ilmu Keolahragaan
Universitas Negeri Semarang. 2013.
Wiryowidagdo, S, Sitanggang, M. Tanaman Obat Untuk Penyakit Jantung, Darah Tinggi, dan Kolesterol. Jakarta: PT. Agro Media Pustaka. 2002.
WHO. Global Atlas on CardiovaskularDisease Prevention and Control. Medis. S, Pustaka, Norrving B. 2011.
Yani, M. Mengendalikan KadarKolesterol Pada Hiperkolesterolemia. Jurnal Olahraga Prestasi. Vol 11. No 2.2015.
Yatim, F. Kendalikan Obesitas danDiabetes. Jakarta: Sarang Pustaka Prima. 2010.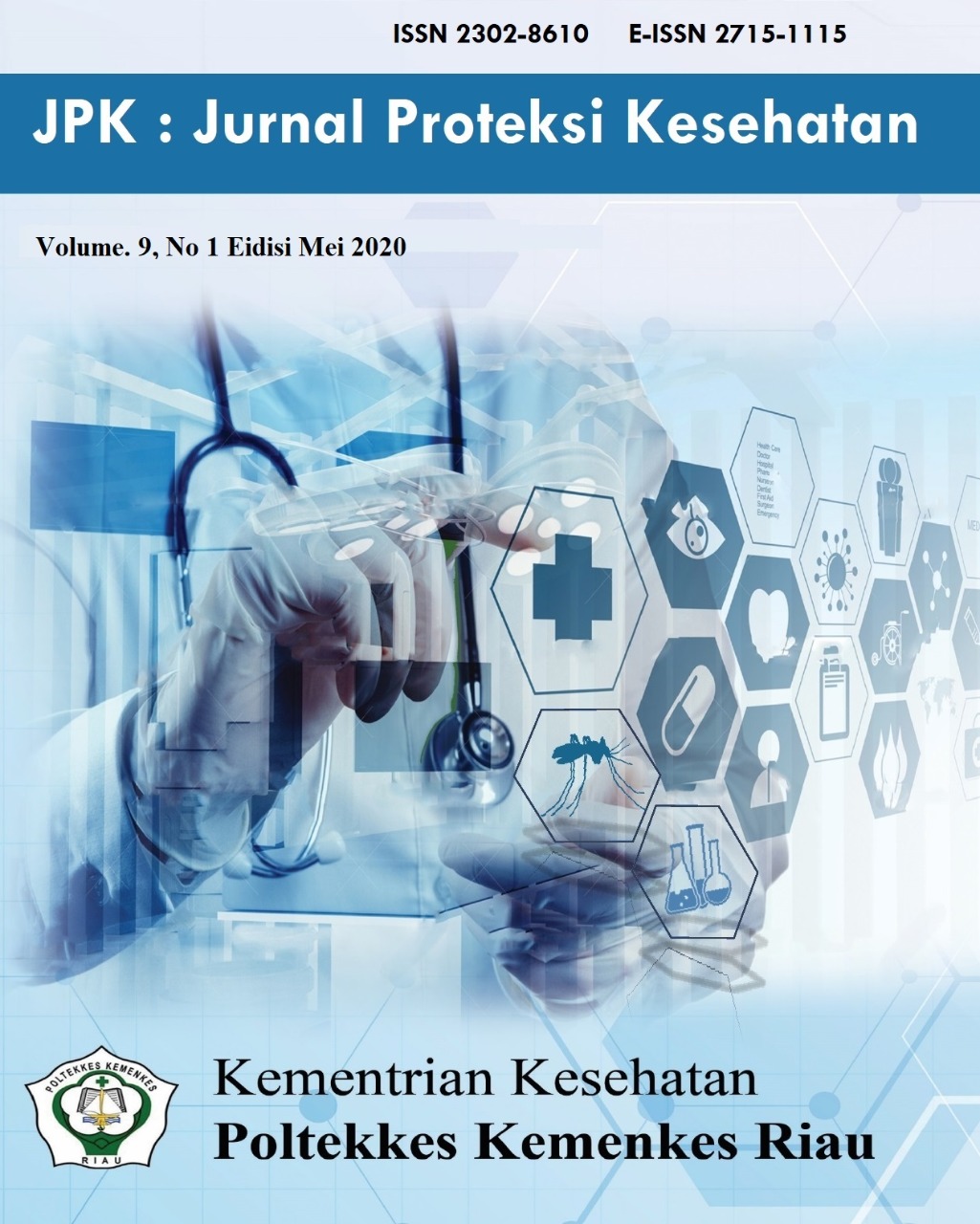 How to Cite
Lestari, K. (2020). The Effect Of Aloe Vera Decoction On Blood Cholesterol Levels Of Obese Respondents Level I. JPK : Jurnal Proteksi Kesehatan, 9(1), 30-36. https://doi.org/10.36929/jpk.v9i1.245