Effectiveness of Mindfulness Interventions on Neonatal Outcomes : A Systematic Review
Faizatul Azimah

Jurusan Kebidanan, Poltekkes Kemenkes Malang, Malang, Indonesia

Finta Isti Kundarti

Jurusan Kebidanan, Poltekkes Kemenkes Malang, Malang, Indonesia

http://orcid.org/0000-0001-5408-2038

Eny Sendra

Jurusan Kebidanan, Poltekkes Kemenkes Malang, Malang, Indonesia
Keywords:
Mindfulness, Neonatal Outcome, Childbirth
Abstract
Abstract
Psychological stress during pregnancy is associated with negative birth outcomes, such as premature birth, low birth weight, gestational age at birth, indicators of breastfeeding, symptoms of postpartum depression, and can cause long-term defects in cognitive development. This study aims to determine the effectiveness of mindfulness interventions on neonatal outcomes through a systematic review. The method used in this study is a systematic review by searching articles through the Pubmed, ProQuest, Science Direct, Wiley Library, Sage Journal, and Cochrane Library databases with publication years January 2018 to January 2022. The results of the study obtained 6 articles that met the inclusion criteria, articles that discussed mindfulness on neonatal outcomes consisted of several countries, namely Canada, Egypt, the United States, San Francisco, Amsterdam, Netherlands. The use of mindfulness interventions for mothers with psychological distress suggests that mindfulness interventions are effective for improving labor outcomes and positive experiences during childbirth. From this study it can be concluded that mindfulness for the future can be used as a non-pharmacological intervention option to reduce psychological distress without risky side effects. Researchers suggest that further research is needed regarding the long-term effects after delivery and delivery outcomes.
References
(1). M. Isgut, A. K. Smith, E. S. Reimann, O. Kucuk, and J. Ryan, "The impact of psychological distress during pregnancy on the developing fetus: Biological mechanisms and the potential benefits of mindfulness interventions," Journal of Perinatal Medicine, vol. 45, no. 9. Walter de Gruyter GmbH, pp. 999–1011, Dec. 20, 2017, doi: 10.1515/jpm-2016-0189.
[2] J. Eastwood, F. A. Ogbo, A. Hendry, J. Noble, and A. Page, "The Impact of Antenatal Depression on Perinatal Outcomes in Australian Women," PLoS One, vol. 12, no. 1, p. e0169907, Jan. 2017, doi: 10.1371/JOURNAL.PONE.0169907.
[3] D. J. P. Barker, "The fetal origins of adult disease : No longer just a hypothesis and may be critically important in south Asia," BMJ Br. Med. J., vol. 322, no. 7283, p. 375, Feb. 2001, doi: 10.1136/BMJ.322.7283.375.
[4] E. Netsi, R. M. Pearson, L. Murray, P. Cooper, M. G. Craske, and A. Stein, "Association of Persistent and Severe Postnatal Depression With Child Outcomes," JAMA Psychiatry, vol. 75,no. 3, pp. 247–253, Mar. 2018, doi: 10.1001/JAMAPSYCHIATRY.2017.4363.
[5] A. Stein et al., "Effects of perinatal mental disorders on the fetus and child," Lancet, vol. 384, no. 9956, pp. 1800–1819, Nov. 2014, doi: 10.1016/S0140-6736(14)61277-0.
[6] J. Kabat-Zinn, Full Catastophe Living. 2005.
[7] C. Vieten et al., "The mindful moms training: Development of a mindfulness-based intervention to reduce stress and overeating during pregnancy," BMC Pregnancy Childbirth, vol. 18, no. 1, Jun. 2018, doi: 10.1186/S12884-018-1757-6.
[8] E. Epel, J. Daubenmier, J. T. Moskowitz, S. Folkman, and E. Blackburn, "Can meditation slow rate of cellular aging? Cognitive stress, mindfulness, and telomeres," Ann. N. Y. Acad. Sci., vol. 1172, pp. 34–53, 2009, doi: 10.1111/J.1749-6632.2009.04414.X.

[9] S. G. Hofmann, A. T. Sawyer, A. A. Witt, and D. Oh, "The effect of mindfulness-based therapy on anxiety and depression: A meta-analytic review," J. Consult. Clin. Psychol., vol. 78, no. 2, pp. 169–183, Apr. 2010, doi: 10.1037/A0018555.
[10] A. L. MacKinnon et al., "Effects of Mindfulness-Based Cognitive Therapy in Pregnancy on Psychological Distress and Gestational Age: Outcomes of a Randomized Controlled Trial," Mindfulness (N. Y)., vol. 12, no. 5, pp. 1173–1184, 2021, doi: 10.1007/s12671-020-01585-2.
[11] E. S. G. Nasr, A. S. Eldesokey Genedy, N. E. Osman, R. M. Abdelmonem, and A. I. Emara, "Effects of Virtual Mindfulness Training Program on Pregnant Women's Anxiety and Labor Outcomes during the COVID-19 Pandemic.," Assiut Sci. Nurs. J., vol. 10, no. 28, pp. 80–93, Jan. 2022, doi: 10.21608/ASNJ.2022.113572.1290.
[12] S. M. Ng et al., "Study protocol of guided mobile-based perinatal mindfulness intervention (GMBPMI) - a randomized controlled trial," PLoS One, vol. 17, no. 7 July, Jul. 2022, doi: 10.1371/JOURNAL.PONE.0270683.
[13] I. Nyklíček, S. E. M. Truijens, V. Spek, and V. J. M. Pop, "Mindfulness skills during pregnancy: Prospective associations with mother's mood and neonatal birth weight," J. Psychosom. Res., vol. 107, pp. 14–19, Apr. 2018, doi: 10.1016/j.jpsychores.2018.01.012.
[14] B. D. Ostlund et al., "Maternal mindfulness during pregnancy predicts newborn neurobehavior," Dev. Psychobiol., vol. 63, no. 6, p. e22131, Sep. 2021, doi: 10.1002/DEV.22131.
[15] I. K. Veringa-Skiba, E. I. de Bruin, F. J. A. van Steensel, and S. M. Bögels, "Fear of childbirth, nonurgent obstetric interventions, and newborn outcomes: A randomized controlled trial comparing mindfulness-based childbirth and parenting with enhanced care as usual," Birth, 2021, doi: 10.1111/BIRT.12571.
[16] J. Byrne, Y. Hauck, C. Fisher, S. Bayes, and R. Schutze, "Effectiveness of a Mindfulness-Based Childbirth Education Pilot Study on Maternal Self-Efficacy and Fear of Childbirth," J. Midwifery Womens. Health, vol. 59, no. 2, pp. 192–197, Mar. 2014, doi: 10.1111/JMWH.12075.
[17] M. Landon et al., "Gabbe's Obstetrics Essentials: Normal & Problem Pregnancies," Gabbe's Obstet. Essentials Norm. Probl. Pregnancies, 2019.
[18] J. L. Cheong et al., "Association Between Moderate and Late Preterm Birth and Neurodevelopment and Social-Emotional Development at Age 2 Years," JAMA Pediatr., vol. 171, no. 4, pp. e164805–e164805, Apr. 2017, doi: 10.1001/JAMAPEDIATRICS.2016.4805.
[19] M. I. van den Heuvel, M. A. Johannes, J. Henrichs, and B. R. H. Van den Bergh, "Maternal mindfulness during pregnancy and infant socio-emotional development and temperament: The mediating role of maternal anxiety," Early Hum. Dev., vol. 91, no. 2, pp. 103–108, Feb. 2015, doi: 10.1016/J.EARLHUMDEV.2014.12.003.
[20] M. I. van den Heuvel, F. C. L. Donkers, I. Winkler, R. A. Otte, and B. R. H. Van den Bergh, "Maternal mindfulness and anxiety during pregnancy affect infants neural responses to sounds," Soc. Cogn. Affect. Neurosci., vol. 10, no. 3, pp. 453–460, Sep. 2013, doi: 10.1093/scan/nsu075.
[21] S. Folkman and J. T. Moskowitz, "Positive affect and the other side of coping," Am. Psychol., vol. 55, no. 6, pp. 647–654, 2000, doi: 10.1037/0003-066X.55.6.647.
[22] B. L. Fredrickson, "The role of positive emotions in positive psychology: The broaden-and-build theory of positive emotions," Am. Psychol., vol. 56, no. 3, pp. 218–226, 2001, doi: 10.1037/0003-066X.56.3.218.
[23] C. L. Smith and A. Stephens, "Maternal Stress and Sensitivity: Moderating Effect of Positive Affect," https://doi.org/10.1080/15295192.2018.1405699, vol. 18, no. 1, pp. 1–8, 2018, doi: 10.1080/15295192.2018.1405699.
[24] P. Bateson, P. Gluckman, and M. Hanson, "The biology of developmental plasticity and the Predictive Adaptive Response hypothesis," J. Physiol., vol. 592, no. 11, pp. 2357–2368, Jun. 2014, doi: 10.1113/JPHYSIOL.2014.271460.
[25] K. Curtis, A. Weinrib, and J. Katz, "Systematic review of yoga for pregnant women: current status and future directions," Evid. Based. Complement. Alternat. Med., vol. 2012, 2012, doi: 10.1155/2012/715942.
[26] A. F. Almarzouki, C. A. Brown, R. J. Brown, M. H. K. Leung, and A. K. P. Jones, "Negative expectations interfere with the analgesic effect of safety cues on pain perception by priming the cortical representation of pain in the midcingulate cortex," PLoS One, vol. 12, no. 6, Jun. 2017, doi: 10.1371/JOURNAL.PONE.0180006.
[27] P. Van der Riet, L. Francis, and A. Rees, "Exploring the impacts of mindfulness and yoga upon childbirth outcomes and maternal health: an integrative review," Scand. J. Caring Sci., vol. 34,no. 3, pp. 552–565, 2020, doi: 10.1111/scs.12762.
[28] L. G. Duncan and N. Bardacke, "Mindfulness-Based Childbirth and Parenting Education: Promoting Family Mindfulness During the Perinatal Period," J. Child Fam. Stud., vol. 19, no. 2, p. 190, Apr. 2010, doi: 10.1007/S10826-009-9313-7.
[29] C. Dunn, E. Hanieh, R. Roberts, and R. Powrie, "Mindful pregnancy and childbirth: effects of a mindfulness-based intervention on women's psychological distress and well-being in the perinatal period," Arch. Women's Ment. Heal. 2012 152, vol. 15, no. 2, pp. 139–143, Mar. 2012, doi: 10.1007/S00737-012-0264-4.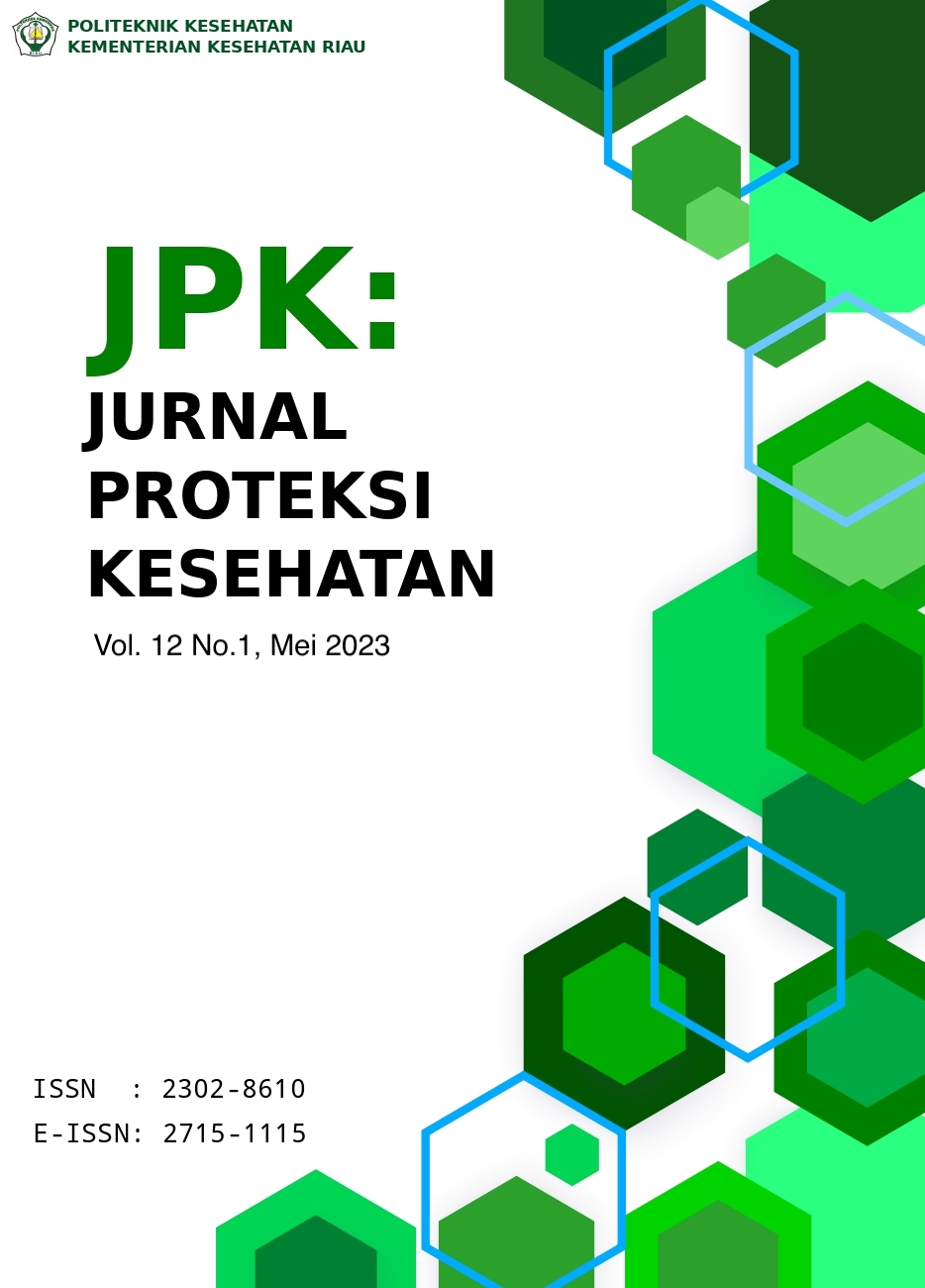 How to Cite
Azimah, F., Kundarti, F., & Sendra, E. (2023). Effectiveness of Mindfulness Interventions on Neonatal Outcomes : A Systematic Review. JPK : Jurnal Proteksi Kesehatan, 12(1), 27-34. https://doi.org/10.36929/jpk.v12i1.648
Section
Literature Review