PENINGKATAN PENGETAHUAN DAN KETERAMPILAN DOKTER KECIL UKS SDN 013 RENGAT BARAT KABUPATEN INDRAGIRI HULU
Deswita Deswita

POLTEKKES

Novita Kusumarini
Keywords:
Peningkatan Pengetahuan, Keterampilan, Dokter Kecil, UKS
Abstract
Health ministry propose programs to the people in improving  health care and services in public health center (Puskesmas). Health ministry regulated school heath care and services in every school and in every level as a program to improve the ntiona health care program(KEMENKES RI, 2015). 
School as a good place to build a characther and culture of healthy life. Elementary school of 013 of Rengat Barat located at Belilas and Rengat Main Road has 229 students. UKS and Dokter Kecil are responsible under control of sport teacher. Survey result showed that the data were collected by interview to the sport teacher. The data were the training of Dokter Kecil held a year a go to the students who were selected to be a Dokter Kecil by team of community services at SDN 013 Rengat Barat. The program target was improving knowledge and skill of Dokter Kecil at SDN 013 Rengat Barat. The programs were held between 8th -21rst November 2012 asssiting of protocols of Covid 19 by wearing mask, maintaning distance and wahing hand. The program were held by teaching theories and practies. The resut of the trainign showed that average score of 28,03 before to 69,6 after. The advices from the isntitution and school to helf the training regularly to imporve the students knowlege and skill.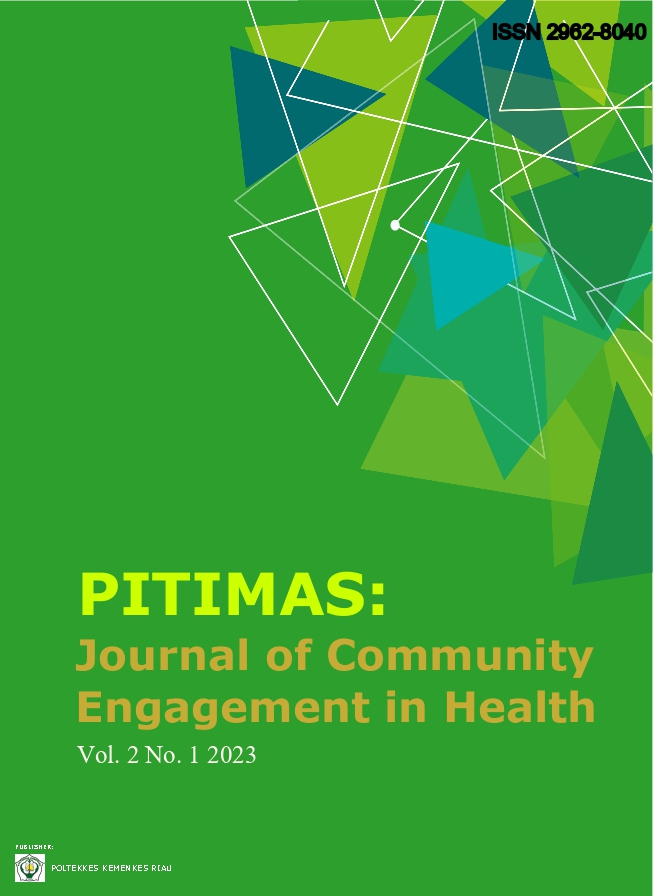 How to Cite
Deswita, D., & Kusumarini, N. (2023). PENINGKATAN PENGETAHUAN DAN KETERAMPILAN DOKTER KECIL UKS SDN 013 RENGAT BARAT KABUPATEN INDRAGIRI HULU. PITIMAS: Journal of Community Engagement in Health, 2(1), 1-5. https://doi.org/10.36929/pitimas.v2i1.359