the IMPROVING THE QUALITY OF ELDERLY WITH BALANCE EXERCISE IN KELURAHAN PEMATANG REBA KECAMATAN RENGATBARAT
IMPROVING THE QUALITY OF ELDERLY WITH BALANCE EXERCISE IN KELURAHAN PEMATANG REBA KECAMATAN RENGATBARAT
novita kusumarini

poltekkes kemenkes riau

Deswita Deswita
Keywords:
Elderly, Balance exercise, Quality Of Life
Abstract
The percentage of the elderly population in Indonesia continues to increase, the structure of Indonesia's population which is starting to become an aging population is indicated by the percentage of the elderly population in 2020 is estimated to reach more than 10 percent, even in 2045 it is estimated that it will almost reach one-fifth of the entire population of Indonesia (BPS, 2020). Aging is a natural process that occurs as a biological fact. The aging process still causes problems physically, biologically, mentally and socio-economically. This situation results in a decrease in balance in the elderly. This of course affects the self-care of the elderly which will have an impact on the quality of life of the elderly.
Decreased balance in the elderly can be corrected with various balance exercises. One of the balance exercises that can be done is Balance Exercise, which is a physical activity carried out to improve body stability by increasing lower extremity muscle strength
The purpose of this activity is: to improve the quality of life of the elderly with balance exercise in Pematang Reba village.
Activity results: During the implementation of this community service activity, the elderly have been able to carry out braces exercises independently. So as to improve the quality of life from the physical aspect.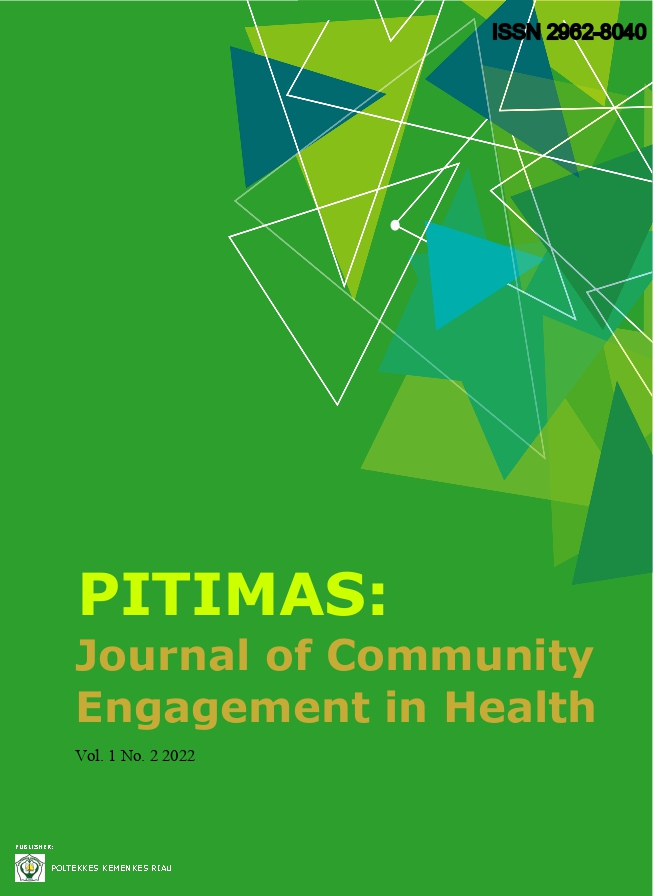 How to Cite
kusumarini, novita, & Deswita, D. (2022). the IMPROVING THE QUALITY OF ELDERLY WITH BALANCE EXERCISE IN KELURAHAN PEMATANG REBA KECAMATAN RENGATBARAT. PITIMAS: Journal of Community Engagement in Health, 1(2), 42-44. https://doi.org/10.36929/pitimas.v1i2.436