PENINGKATAN PENGETAHUAN IBU BALITA TENTANG STUNTING DENGAN UPAYA PERBAIKAN GIZI 1000 HARI PERTAMA KEHIDUPAN
Endang Sari

Prodi Kebidanan Universitas Sumatera Barat

Novia Rita Aninora

Prodi Kebidanan Universitas Sumatera Barat

Welly Handayani

Prodi Kebidanan Universitas Sumatera Barat

Mekar Zenni Radhia

Prodi Kebidanan Universitas Sumatera Barat

Elwitri Silvia

Prodi Kebidanan Universitas Sumatera Barat
Abstract
Stunting is a chronic malnutrition problem that often occurs in children due to lack of nutritional intake or eating patterns that are not in accordance with nutritional needs. Based on data from the Padang City Health Office in 2015, the prevalencestunting the highest was in the working area of ​​the Air Cold Health Center, namely 34.6% consisting of 22.5% short and 12.1% very short, while the prevalencestunting the lowest was in the working area of ​​the Lubuk Kilangan Health Center, namely 1% consisting of 0.7% short and 0.3% very short.
Child stunting tend to be more vulnerable to infectious diseases, so they are at risk of experiencing a decrease in the quality of learning and productivity, which causes poverty and the risk of giving birth to babies with low birth weight. Impact of malnutrition in early life of children (golden period) will continue in each life cycle. The incidence of stunting in children is a cumulative process that occurs from pregnancy, childhood and throughout the life cycle.Stunting need special attention because it can increasemortalityandmorbidityand hinder the physical and mental development of children. Countermeasuresstunting focused on 1000 HPK,
This community service activity aims to help increase the knowledge of mothers of toddlers about stunting. The method used in this activity is through brainstorming, lectures.
Keywords: Mother Childs, Stunting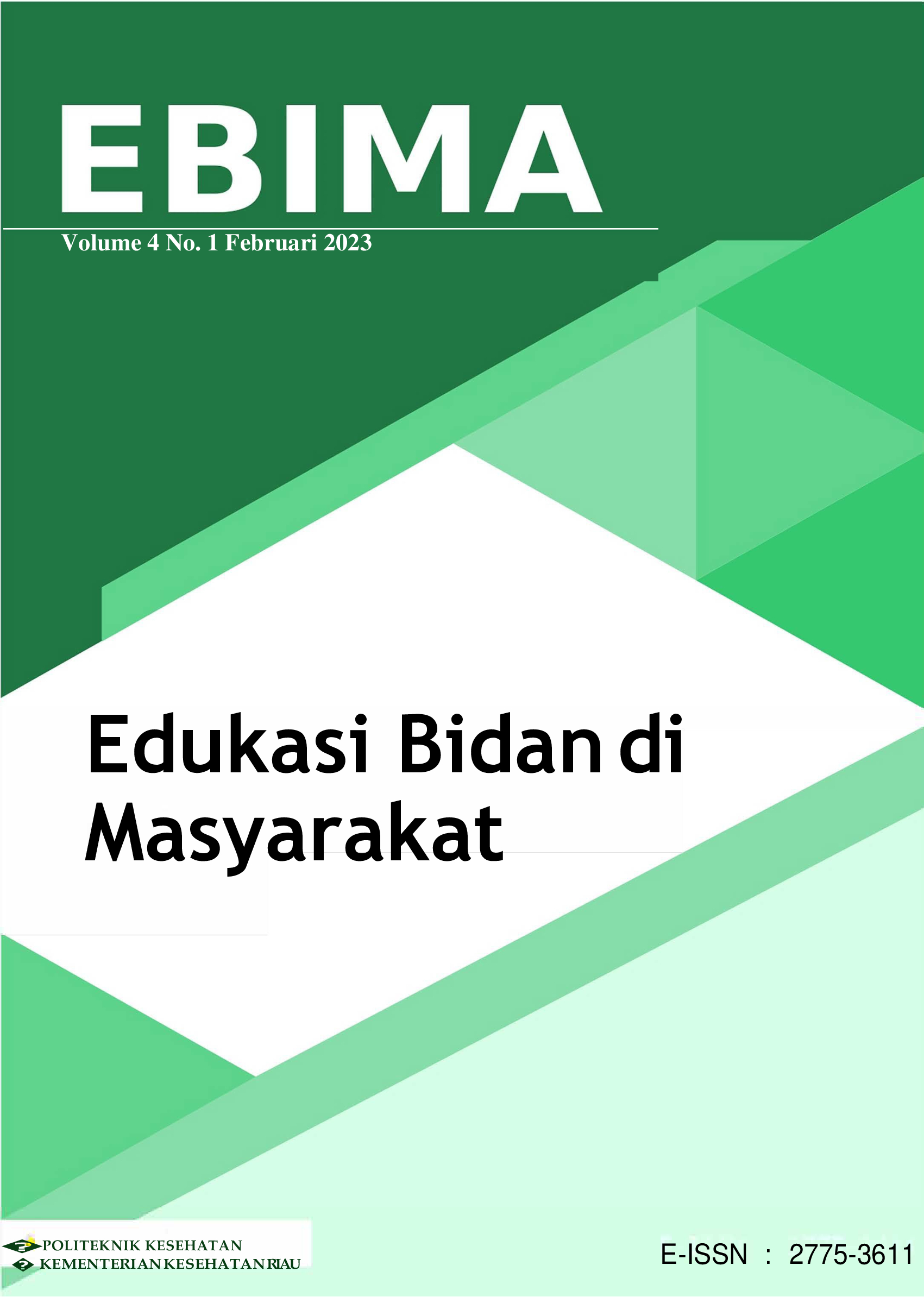 How to Cite
Sari, E., Aninora, N., Handayani, W., Radhia, M., & Silvia, E. (2023). PENINGKATAN PENGETAHUAN IBU BALITA TENTANG STUNTING DENGAN UPAYA PERBAIKAN GIZI 1000 HARI PERTAMA KEHIDUPAN. EBIMA : Jurnal Edukasi Bidan Di Masyarakat, 4(1), 10-13. Retrieved from https://jurnal.pkr.ac.id/index.php/EBIMA/article/view/699