Relation Of Knowledge About Diabetes Mellitus With Motivation To Prevent Complications In Pematang Reba The Working Area Of Pekan Heran`s Public Health Center Of Indragiri Hulu Regency
Alice Rosy

Poltekkes Kemenkes Riau
Keywords:
Knowledge, Diebetes Mellitus, Motivation, Complications
Abstract
Different levels of knowledge of diabetics will cause different motivations in
preventing complications in people with diabetes mellitus. Most sufferers are in
the Public Health Center of Pekan Heran, which is 330 patients. The purpose of
this study was to determine the relationship of knowledge about Diabetes
Mellitus with motivation in preventing complications in the Kelurahan Pematang
Reba, Public Health Center Pekan Heran, Indragiri Hulu District. The research
method is descriptive correlative with cross sectional approach, the sampling
technique is total sampling, 70 respondents, by distributing questionnaires.
Analysis of the data in this study is univariate and bivariate analysis. The results
showed that the majority of sufferers' knowledge about diabetes mellitus was
good (90%), most patients had strong motivation in preventing complications
of diabetes mellitus (94.3%). There is a relationship between knowledge about
Diabetes Mellitus with motivation in preventing complications with a p value of
0.02 or <0.05
References
Kemenkes RI. (2015). Profil Kesehatan
Indonesia tahun 2014. Jakarta :
Kemenkes RI.
WHO. (2015). Diabetes Mellitus.
Diakses pada tanggal 27 September
Diperoleh dari
http://www.who.int/mediacentre/news
/releases/2016/world-healthday/en/
Waspadji, S. (2007).
Penatalaksanaan DM terpadu.
Jakarta: Fakultas Kedokteran
Universitas Indonesia.
Rekam Medik RSUD Indrasari Rengat.
(2017). Rakapitulasi Penderita
Diebetes Mellitus Beserta
Komplikasinya Di RSUD Indrasari
Rengat.
Notoadmodjo, S. (2012 ) Metodologi
Penelitian Kesehatan. Jakarta: Rineka
Cipta.
M. Chazienul Ulum. (2016) Perilaku
Organisasi Menuju Orientasi
Pemebrdayaan. UB Press.
Sunaryo. (2014). Psikologi Untuk
Keperawatan. Jakarta: EGC.
Donsu, J.D.T (2017). Psikologi
Keperawatan. Yogyakarta:Pustaka
Baru Press
Asriwati. (2019). Buku ajar
antropologi dalam keperawatan.
Deeppublish
Purwanto, M. N. (2006). Psikologi
Pendidikan. Bandung: Remaja Rosda
Karya.
Zuyina L, dan Bandiah, S. (2008).
Psikologi Kesehatan. Yogyakarta: Mitra
Cendika.
Susan. (2011) Self care science nursing
theory and evidence based. Springer
Publishing Company
Wawan dan Dewi. (2010) Teori dan
pengukuran pengetahuan sikap dan
perilaku manusia.
Meydani. (2016). Faktor-Faktor Yang
Berhubungan Dengan Upaya
Pencegahan Komplikasi Dm Oleh Pasien
Dm Di Poliklinik Khusus Penyakit Dalam
Rsup Dr M.Djamil Padang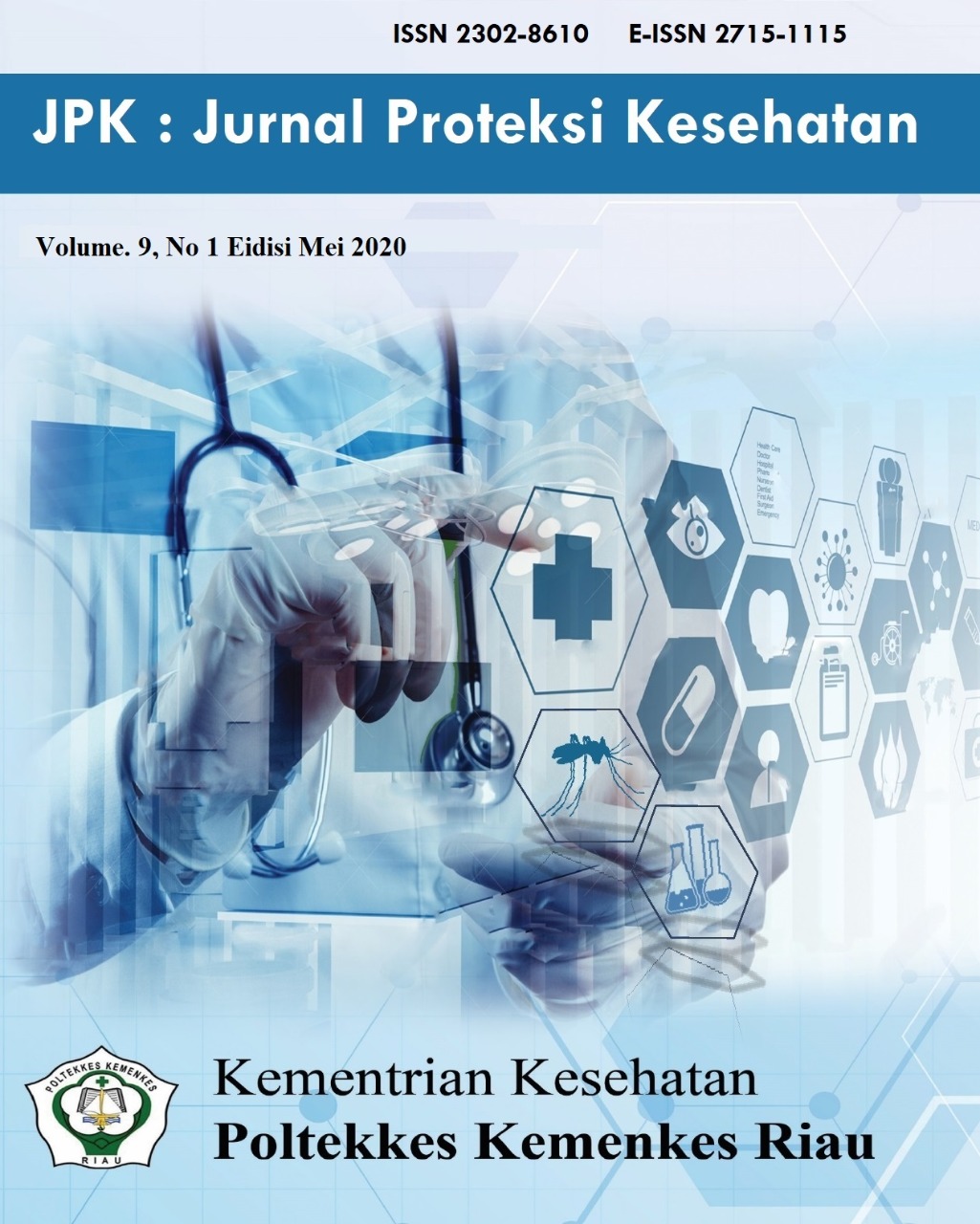 How to Cite
Rosy, A. (2020). Relation Of Knowledge About Diabetes Mellitus With Motivation To Prevent Complications In Pematang Reba The Working Area Of Pekan Heran`s Public Health Center Of Indragiri Hulu Regency. JPK : Jurnal Proteksi Kesehatan, 9(1), 37-43. https://doi.org/10.36929/jpk.v9i1.247