The Effect of Red Beans Flour Substitution on The Glycemic Index of Cupcakes
Esthy Rahman Asih

Poltekkes Kemenkes Riau

Audya Nadya Rinaldi

Poltekkes Kemenkes Riau

Yessi Alza

Poltekkes Kemenkes Riau
Keywords:
red beans, cupcake, index glycemic
Abstract
Red beans are a protein food source, so their role in improving nutrition is significant, besides being rich in protein, red beans are also a source of carbohydrates, fiber, vitamins, and minerals. Cupcake is a food made from flour and is widely favored by all groups. The purpose of this study is to discover the effect of the substitution of wheat flour with red bean flour on the sensory properties, protein content and glicemix index in the cupcake. The cupcake products with concentration treatments varying 100%: 0%, 40%: 60%, 50%: 50%, 60%: 40% have been hedonic tested.  It can be concluded from the results of this study that the red bean cupcake with the best treatment was a concentration of 50%: 50% Based on the sensory properties of the cupcake on the color and taste, meaning that there was an influence from each treatment on the cupcake. The protein content of red bean cupcake on the selected product, was higher at 8.75% compared to 100% control of wheat flour at 7.49%. The glycemic index value on the selected red bean cupcakes was 58,1.
References
[1] D. J. Hortikultura, Statistik Produksi Hortikultura Tahun 2014. Jakarta: Kementerian Pertanian, 2015.
[2] M. Astawan, Sehat Dengan Hidangan Kacang-Kacangan. Jakarta: Penebar Swadaya, 2009.
[3] Y. Marsono, P. Wiyono, and Z. Noor, "Indeks Glisemik Kacang-Kacangan,"
J. Teknol. dan Ind. Pangan, vol. XIII, no. 3, pp. 211–216, 2002.
[4] U. Mawaddah, "Perencanaan Bisnis Cupcake Jelita," Universitas Sumatera Utara, 2012.
[5] P. D. dan S. I. Pertanian, Statistik Konsumsi Pangan Tahun 2012. Jakarta: Kementerian Pertanian, 2012.
[6] M. R. B. Ningrum, "Pengembangan Produk Cake Dengan Substitusi Tepung Kacang Merah,"
Universitas Negeri Yogyakarta, 2012.
[7] N. Yaomi, "Penambahan Tepung Kacang Merah dalam Pembuatan Donat dan Daya Terimanya,"
Universitas Sumatera Utara, 2011.
[8] Nurlita, Hermanto, and N. Asyik, "Pengaruh Penambahan Tepung Kacang Merah (Phaseolus vulgaris L )
dan Tepung Labu Kuning ( Cucurbita moschata ) Terhadap Penilaian Organoleptik dan Nilai Gizi Biskuit,"
J. Sains dan Teknol. Pangan, vol. 2, no. 3, pp. 562–574, 2017.
[9] K. D. Cahyani, "Kajian Kacang Merah (Phaseolus vulgaris) Sebagai Bahan Pengikat dan
Pengisi pada Sosis Ikan Lele," Universitas Sebelas Maret, 2011.
[10] M. Nugraheni, Pewarna Alami Sumber dan Aplikasinya pada Makanan dan Kesehatan.
Yogyakarta: Graha Ilmu, 2014.
[11] N. Indrastati and G. Anjani, "Snack Bar Kacang Merah dan Tepung Umbi Garut
Sebagai Alternatif Makanan Selingan Dengan Indeks Glikemik Rendah," J. Nutr. Collage, vol. 5, no. 4, pp. 546–554, 2016.
[12] N. Romlah, "Pengendalian Mutu Cake Mocaf (Modified Cassava Flour)
Ubi Jalar Ungu (Ipomea batatas Blackie)," Universitas Sebelas Maret, 2011.
[13] A. Istiqomah and N. Rustanti, "Indeks Glisemik, Beban Glikemik, Kadar Protein,
dan Tingkat Kesukaan Kue Kering Tepung Garut Dengan Substitusi Tepung Kacang Merah,"
J. Nutr. Collage, vol. 4, no. 2, pp. 620–627, 2015.
[14] M. Fransiska, "Penentuan Indeks Glikemik Bubur Beras Instan yang Diperkaya
Tepung Pandan ( Pandanus amaryllifolus Roxb )," in Seminar Nasional "Inovasi Pangan Lokal
Untuk Mendukung Ketahanan Pangan," 2018, no. April, pp. 107–114.
[15] J. B. Miller, K. Foster, and S. Colagiuri, The G.I Factor. Hodder and Stougton: Hodder
Headline 'Australia Pty Limitted, 1996.
[16] F. Afandi, C. Wijaya, D. Faridah, and N. Suyatma, "Hubungan antara Kandungan
Karbohidrat dan Indeks Glikemik pada Pangan Tinggi Karbohidrat," Pangan, vol. 28, no. 2, pp. 145–160, 2019.
[17] N. Suryani, R. Abdurrachim, and N. Alindah, "Analisis Kandungan Karbohidrat,
Serat dan Indeks Glikemik pada Hasil Olahan Beras Siam Unus Sebagai Alternatif
Makanan Selingan Penderita Diabetes Mellitus," Jurkessia, vol. VII, no. 1, pp. 1–9, 2016.
[18] S. Sai-Ut, S. Ketnawa, P. Chaiwut, and S. Rawdkuen, "Biochemical and Functional
Properties of Protein from Red Kidney, Navy and Adzuki Beans," Asian J. Food Agro-Industry, vol. 2, no. 04, pp. 493–504, 2009.
[19] Rimbawan and S. Albiner, Indeks Glikemik Pangan. Jakarta: Penebar Swadaya, 2004.
[20] M. Ruslan, A. C. Adi, and D. R. Andrias, "Daya Terima dan Indeks Glikemik Makanan
Brownies yang Diperkaya Tepung Beras Merah dan Kurma," Media Gizi Indones., vol. 10, no. 2, pp. 166–172, 2015.
[21] E. Lukitaningsih, Rumiyati, and E. Puspitasari, "Kajian Glisemik Indeks dan
Makronutrien dari Umbi-Umbian Dalam Upaya Pencarian Sumber Pangan Fungsional,"
Pharmacon, vol. 13, no. 1, pp. 18–23, 2012.
[22] A. Bin Arif, A. Budiyanto, and Hoerudin, "Nilai Indeks Glisemik Produk Pangan dan
Faktor-Faktor yang Mempengaruhinya," J. Litbang Pert., vol. 32, no. 2, pp. 91–99, 2013.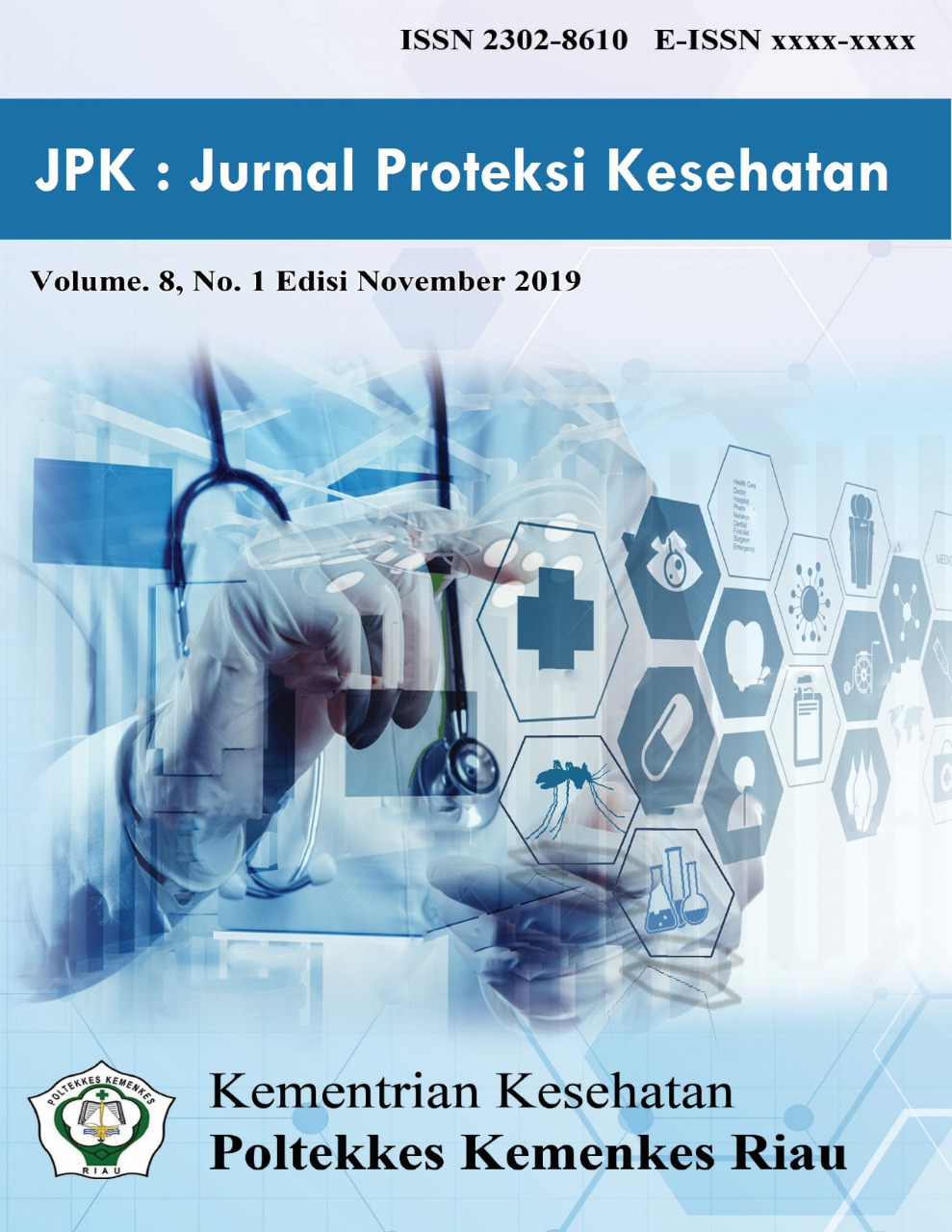 Abstract viewed = 175 times PDF downloaded = 126 times