EDUKASI DAMPAK SEKS BEBAS DAN PENYALAHGUNAAN NAPZA TERHADAP KESEHATAN REPRODUKSI REMAJA
Lailiyana Lailiyana

Poltekkes Kemenkes Riau

Fathul Jannah

Poltekkes Kemenkes Riau

Yan Sartika

Poltekkes Kemenkes Riau
Abstract
Today's youth are faced with an environment where everything changes very quickly. Along with the
development of science, especially in the field of information technology with all the facilities to get information in
cyberspace, it is very open and films shown by various electronic media tend to highlight sexual behaviors that can display
adolescent behavior towards free sex. Drug abuse is also a youth problem that cannot be resolved. Narcotics, psychotropics
and addictive substances (NAPZA) which are consumed by teenagers continuously without indications and supervision in
excessive amounts to the point where dependence occurs and cause various impacts/problems on the body including the
reproductive organs of adolescents. The purpose of this community service activity is to increase youth's knowledge and
understanding of the impact of free sex and the threat of drugs on adolescent reproductive health. The method of activity
carried out is to provide education to adolescents in the form of counseling about the impact of sex-free and drug-taking on
adolescent reproductive health. Educational activities in the form of counseling were carried out for 1 day on February 25
2023 in the Riau Province Plus High School Hall attended by 107 students of class X and XI. The material presented was
about Adolescent Reproductive Health, Free Sex, Narcotics and Addictive Substances. Activity evaluation was carried out
by giving pretest and posttest questionnaires. The results of the activity showed that there was an increase in the
knowledge and understanding of adolescents before and after being given education, namely from an average score of 55
during the pretest to an average score of 85 during the posttest. It is very important for adolescents to be given regular
education about the impact of free sex and the threat of drugs on adolescent reproductive health so that they can prevent
free sex behavior and eradicate drugs.
Keywords: Teenager, education, free sex, drug abuse, reproductive health.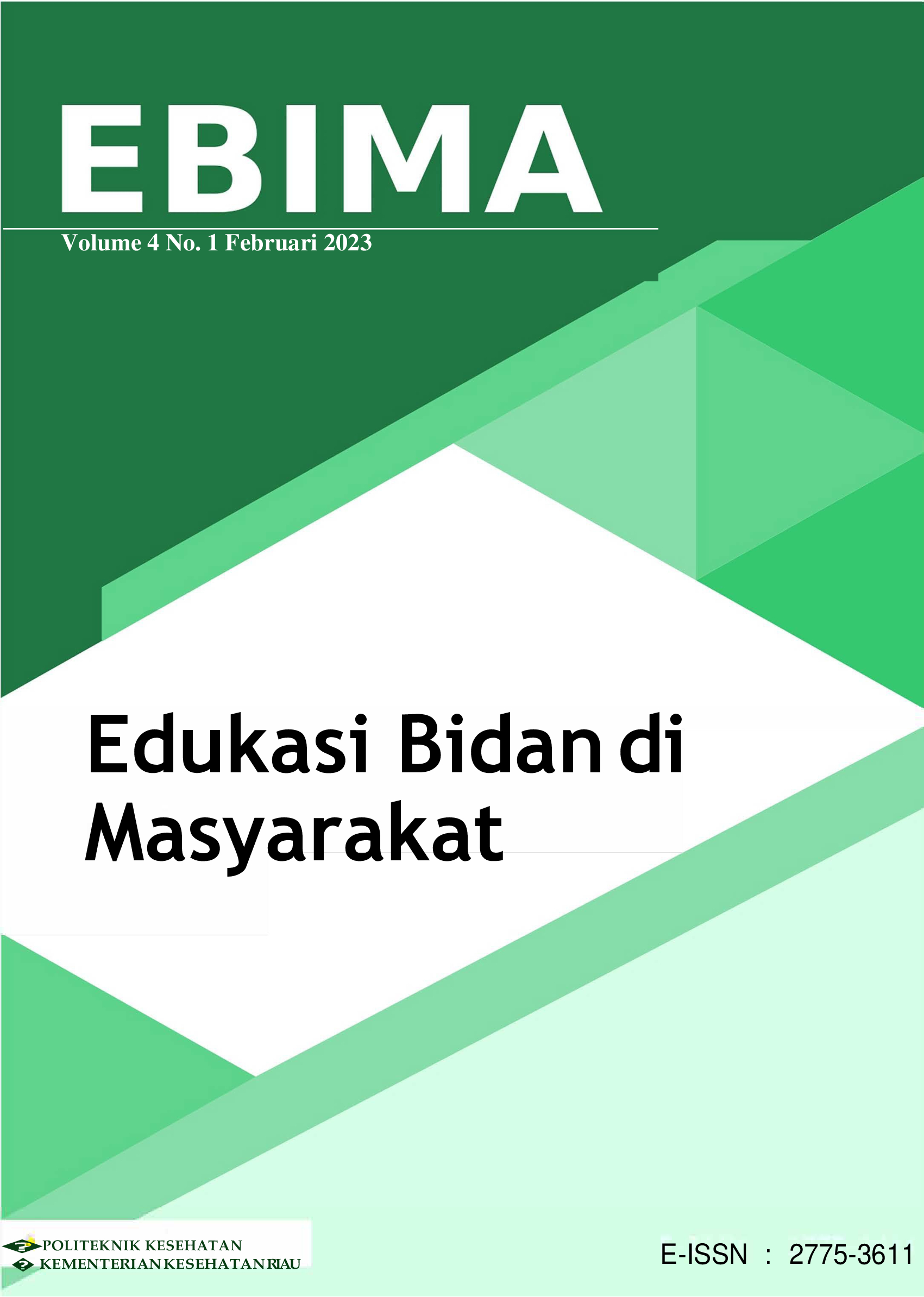 How to Cite
Lailiyana, L., Jannah, F., & Sartika, Y. (2023). EDUKASI DAMPAK SEKS BEBAS DAN PENYALAHGUNAAN NAPZA TERHADAP KESEHATAN REPRODUKSI REMAJA. EBIMA : Jurnal Edukasi Bidan Di Masyarakat, 4(1), 22-25. Retrieved from https://jurnal.pkr.ac.id/index.php/EBIMA/article/view/706