FAKTOR YANG BERHUBUNGAN DENGAN KECELAKAAN KERJA PADA PERAWAT DI RUMAH SAKIT JIWA TAMPAN PEKANBARU TAHUN 2015
Keywords:
Knowledge, attitudes, actions, age
Abstract
Work accident is an event that is not thought to backfire and all that can cause human casualties or property (Permenaker No. 03/MEN/1998). Demand management of occupational health and safety program at the Hospital (K3RS) higher for workers, visitors of patients, and society About a hospital wants to get protection from health problems and accidents, whether as a result of the process of service delivery as well as the condition of facilities and infrastructure in the hospital that do not meet the standards. The purpose of this study was to determine the factors associated with workplace accidents in nurses. This study uses observational study design, with a cross-sectional design that was conducted in April-May 2015 in Pekanbaru Handsome Mental Hospital. Total samples 121 people. Measuring instruments used are questionnaires and observation sheets. Analiais data used is the Chi-Square test. The results showed that the variables associated with school performance is variable age (p value 0.000), knowledge (p value 0.004), attitude (p value 0.014), and action (p value 0.005). It is suggested that the hospital through the training for mengedakan porgram K3RS in providing mental health pelayaanan Handsome Peknbaru Psychiatric Hospital.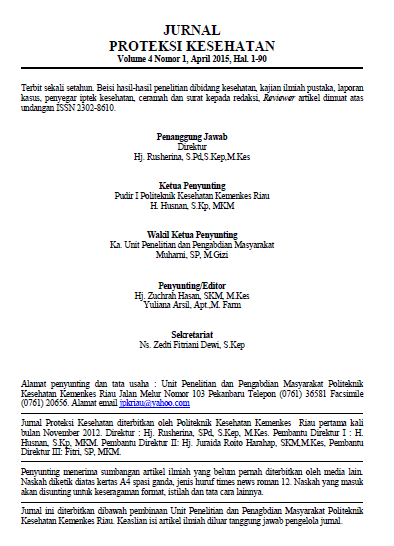 How to Cite
Ardenny, A. (2018). FAKTOR YANG BERHUBUNGAN DENGAN KECELAKAAN KERJA PADA PERAWAT DI RUMAH SAKIT JIWA TAMPAN PEKANBARU TAHUN 2015. JPK : Jurnal Proteksi Kesehatan, 4(1). https://doi.org/10.36929/jpk.v4i1.26